"I am a mountain, strong and steady
For yoga class I now am ready"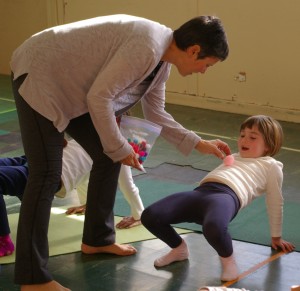 Liz makes yoga fun for kids of all ages (that includes you parents, grandparents and special friends!). Act out a story in yoga poses, help a partner stretch and twist, take a journey to India or outer space! Get moving with the "Yoga of Fun" and you'll develop more
Strength, coordination & balance
Focus & calm
Self-confidence
Cooperation & teamwork
Creativity & imagination
Kids Yoga Classes
All kids and family yoga classes are on hiatus until further notice.
---

All Together Yoga:
Fun for the Whole Family
Liz's family yoga class is on hiatus. If you are interested in future classes, or hosting a family yoga event at your home or community group, please email Liz to discuss!
Liz offers families and friends of all ages the perfect way to do something together. Build strong relationships and strong bodies by rediscovering the joy of play. No experience necessary. Parents – bring a grandparent or"grandfriend" for free!
Perfect for:
Church or synagogue
Community recreation centers
Wellness fairs and events
"Grandma & Me" Yoga
---
Why should the kids have all the fun?
Mini Me Yoga "Playshops" for Grownups
Liz is a Mini Me Yoga Ambassador, offering 2-hour "playshops" that teach you simple, fool-proof techniques for creating a light-hearted but transformative practice of yoga and positive thinking for the kids you love. Geared to preschool and elementary-aged children, it's perfect for teachers, parents, grandparents, caregivers — and no experience needed!
Find out about the next Mini Me Yoga Playshop
---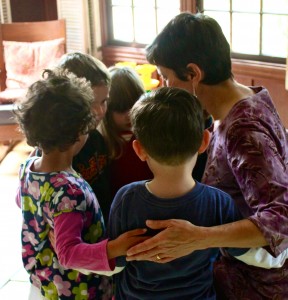 About Liz's approach to yoga
Liz has practiced yoga for 25 years, and is a Certified RainbowKidsYoga Instructor and Mini Me Yoga Ambassador. She also draws inspiration from the work of Sydney Solis, creator of Storytime(TM) Yoga.
Liz uses her elementary school teaching experience and storytelling skills to connect with kids, so they are busy having fun, while they build strength, body awareness and self-confidence. Each session is sure to include time for learning new ways to move our bodies and our breath, working together in partner or group poses, and practicing relaxation and visualization to help us stay calm and focused.
Classes for younger children include upbeat yoga songs, and a book, story or adventure to act out using yoga poses and other movement. Older children enjoy mastering poses, and challenging themselves through fun games and partner work. Liz can incorporate curriculum themes and topics, from science to literature to character education. Just as important, there is room for the students to contribute their own ideas and energy within a safe, structured setting. This emphasis on co-creation is a great way to engage children, and they will want to share what they've discovered with their family, too.