The most thoroughly wasted of all days is that on which one has not laughed.
— Nicolas de Chamfort
COVID19 UPDATE: Oakland Lifefire Laughter Yoga is now meeting WEEKLY-ish, on an alternating schedule at 5:00 or 7:30pm PACIFIC TIME, via Zoom, most Tuesday evenings. Click here to see our current schedule on Meetup.com.
I am also available to your work or community group via Zoom – I just did a very successful and enjoyable session with seniors from the JCC of San Francisco!
WE NEED LAUGHTER NOW MORE THAN EVER. PERFECT TIME TO LEARN HOW TO LAUGH FOR NO REASON!!!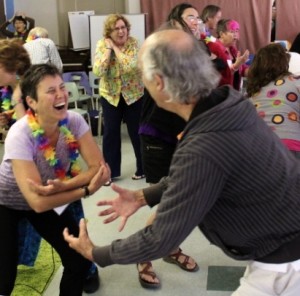 Liz gets folks laughing together – from stressed-out office workers to seniors with memory loss- not by telling jokes but through Laughter Yoga exercises that stimulate intentional laughter and child-like playfulness. Try this simple but complete wellness workout for mind, body and spirit. You won't break a sweat… but you might bust a gut!
Curious? Try laughing along with this:
Laughter truly is "the best medicine."
Gentle and fun, Laughter Yoga is a combination of Yogic Deep Breathing, Stretching, and Laughter Exercises developed by Dr. Matan Kataria in India in 1995. Since then it has spread throughout the world and there are now more than 6000 "laughter clubs" in over 68 countries! It's based on a simple but revolutionary idea: We don't laugh because we're happy; we're happy because we laugh.  Also, our bodies benefit from the act of laughing whether it is "real" or simulated, and doing this together leads to genuine laughter and big stress-relief!
One of the best things about Laughter Yoga is how accessible and adaptable it is for all types of groups and all levels of fitness (including Chair Laughter Yoga for Seniors). Before you know it, you will rediscover what you knew instinctively as a child, and what medical research is finding more about every year:
L aughter releases endorphins, the "runner's high" hormone
A cts as aerobic exercise and is like internal jogging
U nleashes inhibitions, breaks down barriers
G enerates better communication and team building
H elps boost the immune system
T ones muscles, improves respiration and circulation
E ncourages positive thinking and creativity
R elaxes the whole body and reduces stress and tension
Learn more at Laughter Yoga International
Watch and read CNN's September 2018 piece on "The Science Behind Laughter Yoga"